Applications
(Programs written using jMusic)


---
---
---
---
---
---
---
---
---
---
JScore

Jscore is a program that uses JMusic and JLex (lexical analyzer generator) to convert a XML-based score into a MIDI file. Source code and instructions (in Italian) are at the site. JScore was written by Roberto Bertaccini.
---
NIAM
This application, written by Andrew R. Brown, allows the user to composer music made up of cyclic patterns. Musical attributes can be treated separately and cycled in or out of phase. A number of parts can be overlaid to form a complex texture.
NIAM is an acronym for N Is After M, in homage the the conceptual debt that this program owes to David Zicarelli's M software on the Macintosh.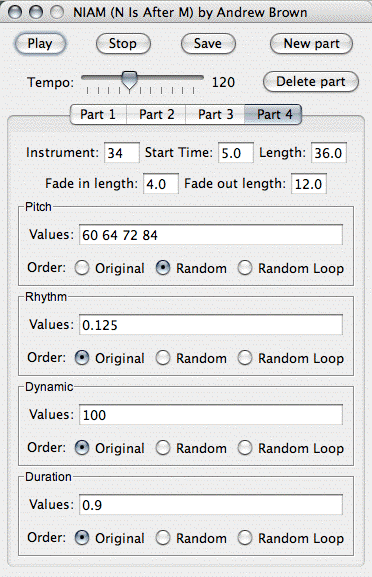 Download the application or the source code. Here is an older version that uses QuickTime rather than JavaSound for playback.

---
Phrase Analysis
This application, written by Adam Kirby, does statistical analysis on a jMusic phrase. It reads phrases as saved in MIDI files or jm score files. The appropriate key and mode can be selected so that stats on melodies in different keys can be compared. The results for individual files can be viewed in the application, or all currently analysed melodies can be exported to a tab delimited text file for viewing in a spreadsheets or other stats package.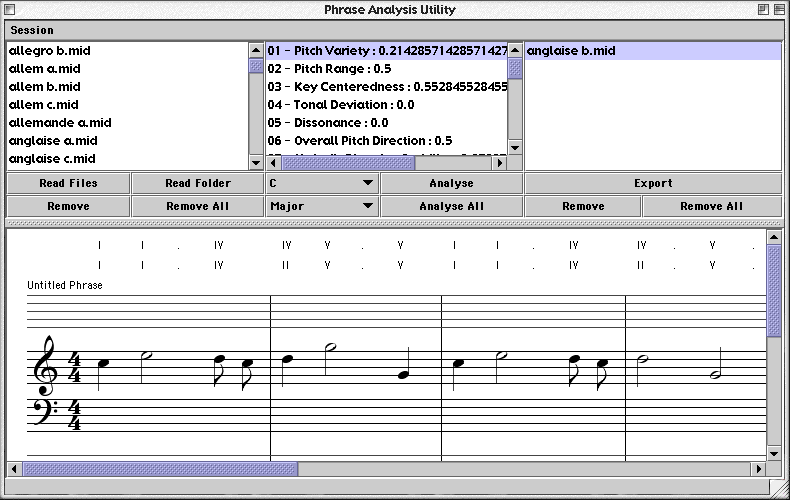 Details of the feature analysis can be found in the jMusic documentation for this class (and supporting classes) or in published papers on the research which used this application.
The supporting classes (in the jm/tools/) directory may be useful for the construction of other analysis applications built in jMusic. Thanks Adam!
---
Music Theory Environment

This program, written by Jerry K, provides a computer environment which facilitates the finding of musical patterns and relationships between chords, scales, intervals, keys.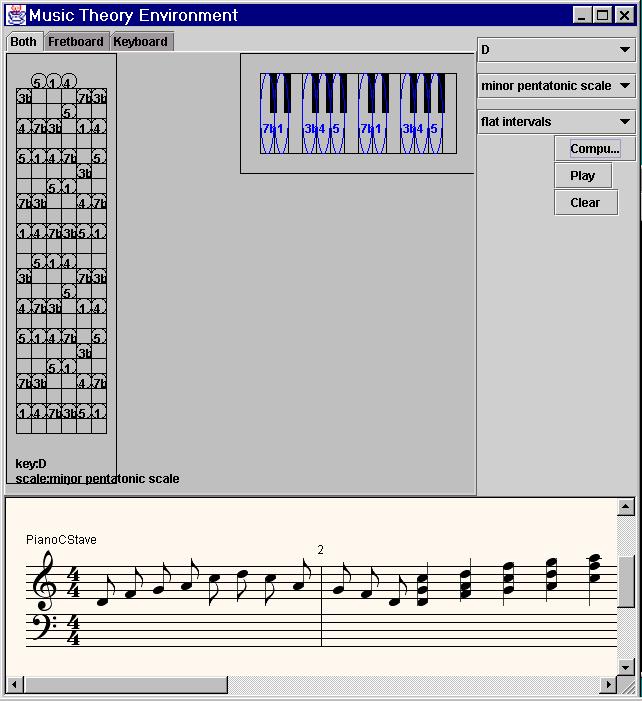 Check it out at: http://mte.sourceforge.net/
---
Melodic Extension

This application, written by Andrew Brown and Adam Kirby, allows a user to write a melody on the top stave and for the computer to suggest a possible extension to the melody on the lower stave. This is designed to provide support and inspiration to those learning the art of melody writing. The application provides suggestions based on statistical analysis of many 'classical' melodies and various genetic algorithm (GA) processes to select 'good' suggestions. Significant conceptual assistance was provided by Michael Towsey. Read about the research surrounding this in our published papers.
---
LEMu (Live Electronic Music)




(50% size)
This application, written by Rene Wooller, Nick Coleman and Andrew Brown, generates music which is played back via MIDI in real time. LEMu is designed for live performance where the operator makes changes to the intensity and mix of drum, bass, chordal, and lead parts. It has been common in LEMu performances for other live players to play along as well.
LEMu is based on generating short (1 - 4 beat) scores which are looped for playback and updated each time the 'compose' button is clicked. The generative processes by which the music is created were designed by Rene and Nick who are undergraduate music students at QUT and created this application after just 8 months of jMusic/Java study.
Hear examples of LEMu performances on the music page. Vist Rene's LEMu web site for the latest developments.

---
Band Machine
A automatic music generator - not unlike Band-In-A-Box - written by Andrew Troedson. See the scource code and explanation in the Band Machine tutorial.